COVID
---
PSC is committed to adhere to all COVID guidelines from the Government and Provincial and National Sports Organisation levels in order to ensure a safe return to soccer activities during the COVID pandemic. We are also committed to working with municipalities, facility providers regarding the use of municipal owned and operated fields regarding facility requirements, as a municipality will likely assess its own capacity to make facilities available, in the context of public health guidance, as owners/operators of public sport and recreation facilities.
We require our membership to keep up to date on the most current information and follow all of the guidelines.
---
COVID GUIDELINES

Government Documents (Public Health Guidance)
Canada Soccer Documents
Newfoundland & Labrador Soccer Association Documents
Approved Return to Sport plans will be posted for public viewing on the Sport NL website www.sportnl.ca. Any changes to plans should be resubmitted and updated on the website.
For the most recent Information on the current Return to Sport plans for soccer visit - https://sportnl.ca/member-services-temp/return-to-play-2021/

Historical Record of Return to Soccer Plans
Paradise Soccer Club Documents
Required reading for PSC Membership - All PSC members are required to read and adhere to the above NLSA Return to Play Guidelines as well as the following;
Additional COVID Resources 2021
PSC Covid Waivers:
Town of Paradise Documents
This is the link to - Town of Paradise Waiver

Complete (fillable pdf or print complete and scan) and submit by email to registrar@pysa.ca
All Players and Coaching Staff are required to have completed and submitted this waiver by email prior to attending training. Any players that participated in Summer Soccer 2020 or 2021 have already completed this waiver and are not required to do so again.
---
FACILITY REQUIREMENTS
Town of Paradise Outdoor Facilities (DWMSC/PBD)
Individual, team and group sports and recreation activities are permitted in Alert Level 2, in accordance with the Special Measures Orders.
• Organizers of recreation activities or events must keep a record of all participants, attendees, supervisors, and care/respite workers at each activity or event. However, providing contact information is voluntary and individuals should not be denied entry to an activity or event. The information must be kept for 14 days to assist with contact tracing efforts, if needed.
• Spectators must maintain physical distancing of two metres between household bubbles. • The Renter is responsible for monitoring physical distancing amongst household bubbles. • After activities conclude, individuals should maintain physical distancing when returning to vehicles or homes.
• If recreation equipment is supplied by operators to participants, all equipment must be sanitized before and after activity.

Rotary Paradise Youth & Community Centre (Gymnasium)
All Rentals, Activities & Program offerings are required to use the Paradise Double Ice Complex as the main entrance and exit.
Drop off and Pick up will be in the Ice Complex foyer at the first set of doors to the RPYCC, Parents must remain on the Ice Complex side of the first set of doors. Coaches will escort players back to the Ice Complex after training and players will stand at the first set of doors to the RPYCC with coaches until picked up. Parents should not enter the RPYCC
ALL rentals/groups are to follow the drop off and pick up procedures for indoor recreational activities/rentals

It is the responsibility of the renter to have a member of their group, located at the main entrance of the Paradise Double Ice Complex during any participant drop offs and pick up.
It is the responsibility of the renter to have an appointed member to be the holder of the card/key/code in order to be able to grant access for other participants into the Community Centre side for their activity.
Access doors are not to be wedged or held open.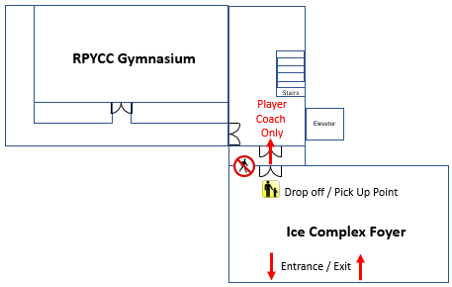 Techniplex (Turf Fields)
View Techniplex Requirements
Below information Updated March 31st 2021;
Techniplex has designated separate entrance only and exit only points in the facility. Participants will enter through the main entrance and will follow signage to the specific field door entrance for their corresponding field. Field 1 will enter through the main field entrance in the lobby. Field 2 and Field 3 will enter through the south field entrance. All participants will exit through the designated door on the field which will be located on the north side parking lot.
Participants should arrive ready to play since change rooms will not be available with the exception of footwear. Outdoor footwear MUST be changed before entering the field. Bring a waterproof bag to hold your footwear. There will be a designated area where you can put on your outdoor shoes as you are exiting the building. You will NOT be permitted on the field while wearing outdoor footwear.
Please Arrive at the facility ready for your sessions promptly at 2:55pm, 3:55pm or 6:25pm respectively (You should not be permitted to enter the building any earlier than 2:55pm/3:55pm/6:25pm). Groups will leave the building through the side doors directly onto the parking lot at 3:55pm/4:55pm/7:25pm respectively.
A Maximum of 50 people are permitted separately on each of Field 1 and 2 and 3 for a maximum of 150 at the facility simultaneously.
All players and equipment must be off the field and on the exit sidelines on the north side of the building by 5 minutes before the end of the booking time to allow for a smooth transition and separation of different groups.
If team discussions are to take place, they must be completed in the regular booking time and not take place on the sidelines following the practice.
All players and coaches over the age of 18 must show their vaxpass for entry.
Powerplex Benvons Room (Turf)
View Powerplex Requirements (updated March 31st 2021)
Parents should escort their child to and from the exterior door but not enter the building. If players need your assistance with footwear then please ensure they are wearing their appropriate footwear before entering the building. Parents are not permitted inside the building.
Importantly at Pick Up we do ask that parents actually come up to wait outside the door, rather than waiting in your vehicles. For the safety of players we should not allow players to walk off on their own without seeing their parents, even if its just to the car park.
Entrance/Exit areas

Direction and traffic flow arrows and signage to clearly indicate enter and exit strategy.
Only touch point on main exterior door handles when entering.
All other exiting and entering inside area should be touch free if possible.
Bleachers are out of bounds, players should not sit on or stand on bleachers and no personal belongings to be stored on bleachers.
Personal belongings must be stored on the floor.
Where possible parents are asked to drop off their children at the exterior doors, and wait at the exterior doors for pick up. Players are asked to remain with the coaches until they can see the person picking them up.
Bathrooms

Only Benvon's Room bathrooms to be used.
Limit 1 person at a time Male/female.
Wipe/use/wipe policy. Disinfectant wipes installed in each toilet stall. Appropriate disposal bin supplied.
NLSC Staff to disinfect cubicle and toilet touch point every hour.
Bathrooms are for essential use only and not to be used as change rooms. ATHLETES MUST COME IN TRAINING ATTIRE READY TO TRAIN.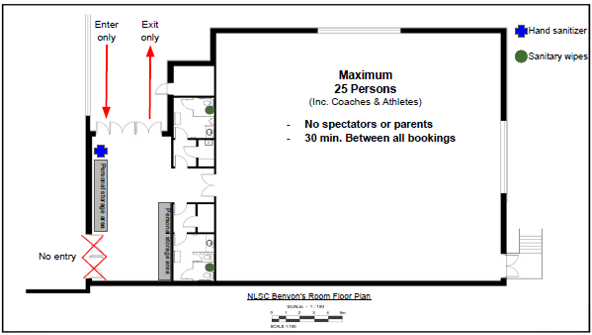 MAX Facility (34 New Cove Road)
View Max requirements below;
Please wear a mask entering and exiting the building,
no outdoor footwear,
please bring your own equipment and water bottles.
Specific COVID waivers required which can be accessed on the CE23 website www.ce23basketball.com under "Programs" or directly using the links which are below. Access on your cell phone - Both of these forms can be filled out on CE23 application, you can download to your phone via the CE23 website.
Team Gushue Complex OUTDOOR TURF Field (Smallwood Drive)
View Mount Pearl Facility requirements;
User Group Responsibilities
1. Have own approved plan specific to their Sport/Activity.

a. Have own protocol for screening athletes (Waivers, Health check forms, etc.
b. Maintain a protocol and appropriate cleaning supply for cleaning/sanitizing all Users
Group owned equipment.
c. Must have COVID Coordinator and are responsible for own Contact Tracing
d. Must have a suitable ratio of coaches to athletes to monitor and ensure adherence to NL COVID Plans.
e. Maximum of 50 persons at any time on the field (including Athletes, Coaches, Referees)
ii. NO SPECTATORS PERMITTED AT ANY TIME.
f. Must ensure coaches and athletes follow strict personal hygiene standards with respect to hand washing and using sanitary wipes in areas provided and required.
g. Ensure advanced communication to all athletes and coaches regarding traffic flow in and out of the facility.
2. While participating in sports, NMM must be worn within the facility; however participants may remove their mask when engaged in moderate or vigorous physical activity as determined by the coaches or organizers. The use of non-medical masks will be required to be worn where possible.
a. If training is low intensity, then participants/athletes should wear non-medical masks for the duration of the training session. If training is moderate or vigorous, masks may be removed at the discretion of sport instructors/coaches.
b. It is recommended that instructors/coaches wear NMM for the duration of the session, provided that they themselves are not engaged in moderate or vigorous physical activity.
3. Maintain Own Liability Insurance.
Accessible areas
1. Entrance/Exit areas
a. Direction and traffic flow arrows and signage to clearly indicate enter and exit strategy.
i. Only touch point on main exterior door handles when entering.
ii. All other exiting and entering inside area should be touch free if possible.
2. Bathrooms.
a. Limit 1 person at a time Male/female.
b. Wipe/use/wipe policy. Disinfectant wipes installed in each toilet stall. Appropriate disposal bin supplied.
c. Gov. NL Hand washing signs in all washrooms.
d. Hand sanitizer in both entrance areas to washrooms.
e. Bathrooms are for essential use only and not to be used as change rooms. ATHLETES MUST COME IN TRAINING ATTIRE READY TO TRAIN.
No Access areas
1. Bleachers
2. Changing rooms
---
Protocols for Players, Parents & Coaching Staff 2021
Parents/Players Click to view the "Protocols for Individuals" for your program Explosion or Soccer 4 Fun.

Before Leaving Home :
Dress ready to play before you leave home and wear over layers as you will not have access to dressing rooms at the facilities
Bring a Water bottle with your name clearly visible
Bring/Wear a mask
Complete the Updated Self Screening process: Players and coaching staff are required to complete self-screening daily prior to attending indoor soccer activities (training/games).
Reporting COVID Concerns
Please review the PSC Response Action Plan for more information. The Specific Point of Contact (Kelley Button) is a designated staff person to be responsible for responding to ALL COVID19 concerns. All coaches, staff, officials, and families should know who this person is and how to contact them. SPOC Contact Email: covid@pysa.ca
Consistent with Federal and Provincial/Territorial privacy regulations, acts, laws, etc. - coaches, staff, officials, and families of players should self-report to the SPOC if:

they have symptoms of COVID-19, or
a positive test for COVID-19 is recorded, or
were exposed to someone with COVID-19 within the last 14 days.